AccordionChords.com is a great resource for accordionists who want to grow their skills and expand their repertoire.
New-designed and intuitive chord charts for accordion
This website offers a series of new-designed chord charts that can help you learn the most commonly used chords in many different genres. These charts are designed to be clear and intuitive, making it easy for both your left and right hands to find the right positions and combinations. All chord charts are specifically designed for Stradella bass system and piano accordions, and are suitable for players of all levels.
If you're a beginner or an experienced player, AccordionChords.com can help you improve your accordion playing.
Why bass charts are in mirror view and the importance of touch for accordionists
As an accordion teacher, I always emphasize the importance of using touch to navigate the bass position on the accordion. Sight is not a viable option when playing the accordion, and relying on mirrors or attempting to look at the bass buttons can actually hinder progress and reduce confidence.
The marks on the C and other buttons are meant to be felt by the fingers, not seen by the eyes. It's important to rely on our sense of touch to orient ourselves on the button board, as it's the only sense available to us while playing.
This is why the bass charts on AccordionChords.com are presented in "mirror view," which reflects the way the left hand "sees" the bass button board. Over time, this perspective will also become the way you visualize the standard bass layout in your mind.
If you struggle to use these charts, try consulting them while holding the accordion. Having your left hand on the button board should make it easier to understand the mirror view.
---
The versatility of Stradella bass system accordions: from traditional to modern music
A Stradella bass accordion, depending on its size and number of buttons, has one or two columns of single notes (bass and counter-bass) and up to 4 columns of chords (major, minor, dominant 7th and diminished 7th) but it can play many more types of chords in all keys.
Contrary to popular belief, the accordion is not limited to traditional or classical music. The left-hand technique for playing the accordion has evolved, allowing musicians to fully tap into the potential of this instrument.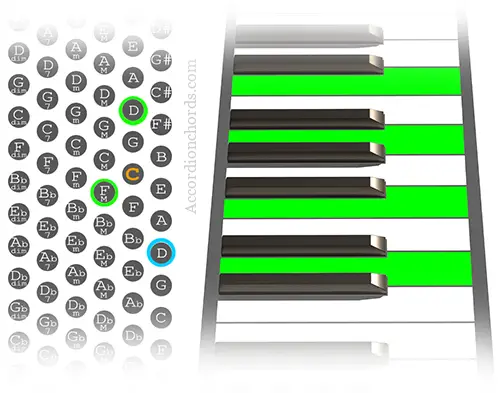 The Stradella bass system allows the creation of complex chords by combining two or three chords. This gives the accordionist the ability to play a wide range of musical styles.
All chords you can play on a Stradella bass accordion
On a Stradella bass accordion, you can play all these kinds of chords:
These chord types allow you to explore a wide range of musical genres and styles on your accordion. However, it's important to note that the number of chords you can play on an accordion may also depend on the specific type of accordion you have, as well as its size and the system it uses.
---
How to find the chord chart you need
From the Main Menu, select the root of the chord you are searching for. This will bring up a list of all the chords available for that root.

If you prefer to browse through the chords by type, you can click on the "Chords Families" list on the right sidebar (on smartphones, this list is located at the bottom of the page).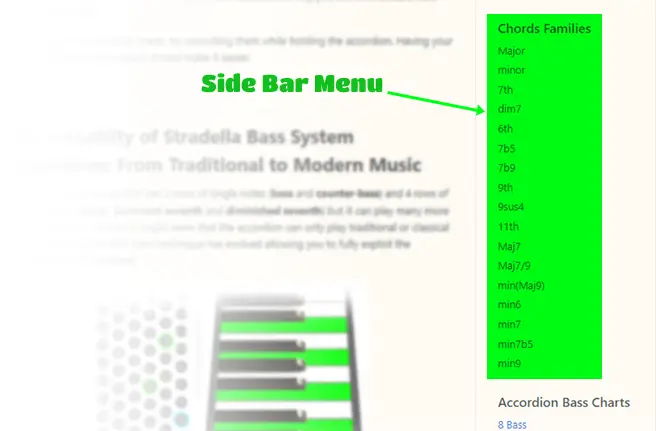 Or, you can click on the "All Chords" tab on the top menu to see a list of all the chord charts available.

---
Detailed bass charts and lists of chords for accordions of different sizes
I've also created a detailed diagram and a list of all available chords on each different size of accordion, from 8 to 120 bass buttons. All Stradella bass charts show which notes are played by each button and many other details.
Explore the potential of the Stradella bass system
Unlock the full potential of your Stradella bass system with these comprehensive accordion bass chart. Select the size of your accordion to find out what chords you can play:
---
Expand your skills and knowledge with music theory lessons, exercises, quizzes, and tutorials
AccordionChords.com offers a range of music theory lessons, exercises, quizzes, and tutorials to help you improve your technique and expand your knowledge. From learning the basics of sheet music and notation, to advanced techniques for recording and performing, these tutorials cover a variety of topics to help you playing the accordion. In addition to the tutorials, AccordionChords.com also provides tips and resources for choosing and maintaining your accordion, as well as exploring different styles of music.
Regular updates and new content on AccordionChords.com: be sure to bookmark!
Stay tuned by bookmarking AccordionChords.com and checking back regularly for updates and new content. Don't miss out on new updates by subscribing to the newsletter and following AccordionChords.com on Facebook and on Pinterest.
Contact me
Do you have any questions or comments about the chord charts or resources on AccordionChords.com? Feel free to reach out to me with your thoughts. I am always open to hearing your feedback and suggestions for ways to improve and grow the site.
Thank you for your support and interest!