To read accordion bass notes on a score, you need to be familiar with the bass clef. If you already know how to read the treble clef, learning the bass clef will be much easier. If you are not yet familiar with the treble clef, you may want to take a look at a lesson on how to read music notation, which will teach you the basics.
How to read the bass clef
Knowing the treble clef, you can use some simple tricks to read the bass clef:
read notes as if they were written in the treble clef and then add two notes. For example, if in the treble clef you have an E on the first line, you will need to read it as a G in the bass clef. An A in the treble clef is a C in the bass clef; a B in the treble clef is a D in the bass clef and so on.
Or instead of adding notes,
You can simply read the bass clef notes as if they were one step higher, so if you see a note on the first line, imagine it is on the second line and read it as you would if you were reading the treble clef. The same goes for a note placed in a space on the staff: for example, if you see a note on the second space, it is equivalent to a note on the third space of a treble clef staff.

Notation written for Stradella bass
There are 3 kinds of bass notes on the accordion:
Bass
Counter-bass
Chords
Position on the staff
Bass and counter-bass are in a lower position on the staff than accordion bass-chords. On accordion scores, usually, in the lower position, you'll find a D and in the highest, a C.
Take a look at the staff below.
Bass & Counter bass:

Chords:

Accordion bass notation
The standard accordion bass notation is quite simple as basses, counter basses, and chords are all represented with a single note on the staff.
There are four different kinds of chords on the accordion: major, minor, seventh, and diminished. You will find a letter, a number, or an abbreviation near a chord note that defines the nature of the chord:
"M" = major
"m" = minor
"7" = dominant 7th and
"dim" = diminished 7th chords
---
On scores written for Stradella bass, the lower note is a bass and the higher note is a chord.
---
As you can see in the example below, the notation for major, minor, 7th, and diminished chords is always the same: there're two C notes, an octave apart.
The lower is a C bass and the higher is a C chord:
C Major: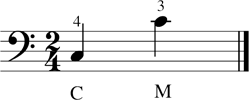 C minor: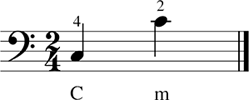 C Dominant 7th: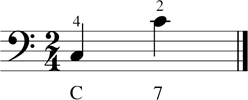 C Diminished: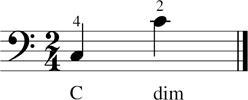 (Fingering for major chords is 4-3, for minor, 7th and diminished is 4-2 )
Rhythmic patterns on the Stradella Bass System
The Stradella bass system was designed to play traditional and popular classical pieces, waltzes, mazurkas, polkas, marches, etc. The most common rhythmic patterns are in 4/4, in 3/4, in 2/4 (which it can be written in 4/4 as well) and in 6/8.
There're many other common time signatures but let's focus just on:
4/4 (marches, ballads, fox-trot, and polkas for example)
and
3/4 (waltzes, mazurkas, minuets, and dances)
Left hand notation: different styles
Here you can see the same melody written for accordion, for piano, and for any other instruments ("Just chords").
A simple melody in 4/4: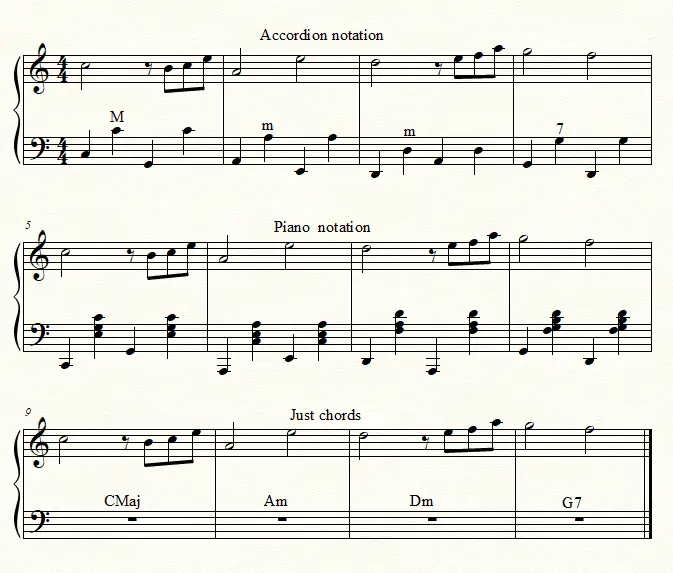 The first line of the score shows the accordion notation, where chords are written as a single note on the bass staff. This is a common way of writing chords for accordions, as it allows the player to easily see the root note and the chord type.
The second line of the score presents a piano notation, where chords are written as groups of notes on the bass staff. This allows for more detail and the ability to play inversions of the chords. On a piano, you can choose to play different inversions of the same chord or you can play a bass note at a lower octave; on the accordion, there is only one octave for basses and chords cannot be changed. It's not possible to play chord inversions on a standard bass accordion. This is why accordion notation is less detailed than piano notation.
The third line of the score is a bit different, as the bass staff is left blank and the chords are written as names only. Once you know how to arrange a rhythmic pattern, all you need in order to play an accompaniment for a melody is to know the chord progression. Jazz and pop music, for example, are usually written on a single staff with chord symbols. In my opinion, it's important to learn how to play as many different styles of accompaniments as possible because sometimes the score doesn't give you any information about it.
The same melody in 3/4: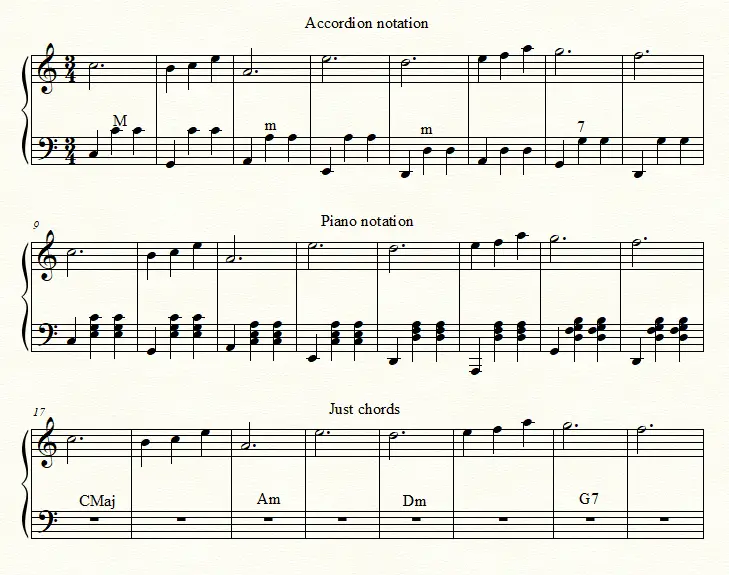 In this example, there are 4 chords: C Maj, A min, D min, and G 7th.
Regardless of the time signature, you can see how bass notes follow the same pattern:
(C – G), (A – E), (D – A), (G – D)
These are all fifth intervals and in fact, accordion basses are arranged in a circle of fifths. This means that you can alternate roots and 5ths very easily on the accordion and therefore it is very easy to play all those rhythmic patterns in which there is this alternation of bass.
Tip: One way to start reading different types of scores is to play children's rhymes. Since you probably already know the melodies of these songs, it will be easier to follow the score, even if it is written for piano or if it only has chord names. A great resource for finding children's rhyme scores is WeLoveRhymes.com. This website collects children's rhymes and provides a downloadable PDF score for each song. Plus, the scores on this website are all different, so it can be a great exercise to get used to the different notation styles of the bass staff.
---
Accordion counter bass notation
Accordion counter bass notes are often underlined with a little dash so you can distinguish them from bass notes.

Accordion bass chords combination
A combined chord is a chord that combines a root note (bass or counter bass) and one or two chords (major, minor, 7th, or diminished) from a different root line to play an extended chord.
For example, D minor 7th (Dm7) combine a D bass note and an F major chord, let's explain why:
Minor 7th chords are minor chords with a dominant 7th. On accordion, there're "minor" and "7th" chords but no single button for "minor 7th" chords. To play a minor 7th chord on accordion you need to play the root and the other three notes which complete it.
D minor (Dm) is a triad consisting of the pitches D (root), F (minor third), and A (fifth).
D minor 7th (Dm7) is a quadriad consisting of the pitches D (root), F (minor third), A (fifth), and C (minor seventh).
Probably your first thought is to add a C to the D minor chord but this is not the solution since if you add a bass C note, it sounds as if C were the root of the chord created (something like C, D, F, A).
The right solution is to use D as root, then adding the notes that complete the Dm7 chord: D + F, A, C.
Which chord plays these notes all together? The answer is: F major chord.
So, to play a Dm7 on accordion bass you need to push the D on the bass or on the counter bass row and the F major.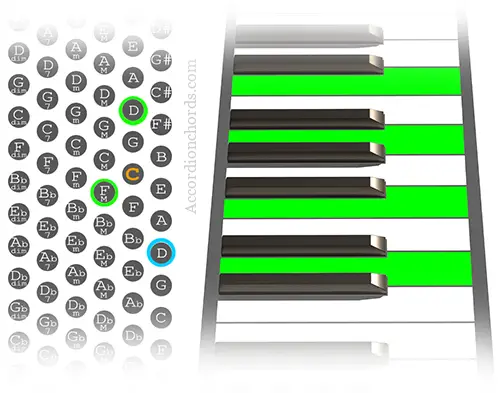 Combined bass chords notation
Notation for combined accordion bass chords follow the same rules explained before:
The lower note is a D, this means that D is the root and the higher note (F) is a chord. The letter "M" indicates that the F chord is major. Although this is a correct way of representing the Dm7 chord, you are more likely to find the chord name, as combined chords are used in musical genres that usually don't use double staff.
For this reason, it's important to learn chords as patterns in order to play complex chords on accordion bass.
Accordion bass scales
Since the first two bass rows are single notes, it's possible to play scales with the left hand. In the example below you can see the D major scale:

There're many scales with different fingering but I'll talk about other kinds of scales in another post. As you can see, bass and counter bass notes are combined in a specific sequence with a specific fingering. The dashes and fingering numbers help to find which button you need to play in sequence.
Author: Giovanni Lucifero